Apache server for android
1. KSWEB – server + PHP + MySQL
This app installs HTTP webserver on android phone with PHP and MySQL. So, to run the web server, you need to launch this app after installation. To keep running the web server, tap on minimize button in this app.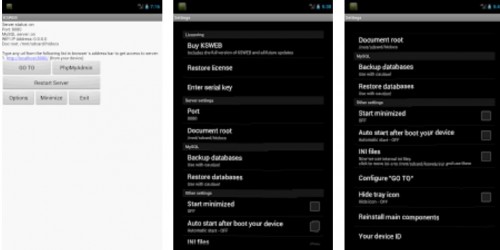 2. Bit Web Server (PHP, MySQL, PMA)
This android app installs LightTPD as webserver, PHP5 as php server with CGI, MYSQL and even PHPMyAdmin as MySQL client. S0, this app promises a lot of features to give you the power of portable webserver on your android phone or tablet. With this, you can run test wordpress installation right on your android phone or other test deployments of Zoomla, Drupal, CakePHP, etc. But, this is paid application so proceed with caution as for some users, it doesn't work the way it should.